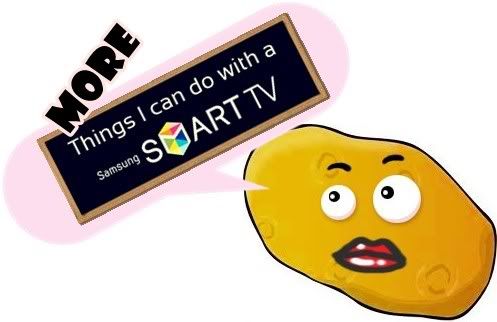 Part 1 is HERE
I've already posted a few things on why a couch potato must have a Samsung SMART TV but let me tell you that this amazing TV has more to offer. Read on.
What More Can We Get from a Samsung SMART TV?



The features I have mentioned in my previous post about the Samsung SMART TV might have already convinced you to buy your own. However, let me tell you the good news – THERE'S MORE. Apart from the unique TV viewing enhancement features that we could enjoy from a Samsung SMART TV, it also has extraordinary capabilities that will definitely make our couch potato moment a SMARTER experience. It is a TV that kind of mimics a PC. It offers web browsing capability and it can run a wide variety of software applications which makes TV smarter and life easier and more entertaining.
What's unique with the Samsung SMART TV is that it lets us access the SMART HUB. This hub opens a world of web-connected TV entertainment through the many applications that we can use to easily search for movies, TV shows, and more. It also offers applications that will allow us to browse the web, play games, chat with friends, and access types of new interactive TV content. Here are things we could do with some of the most popular SMART HUB applications…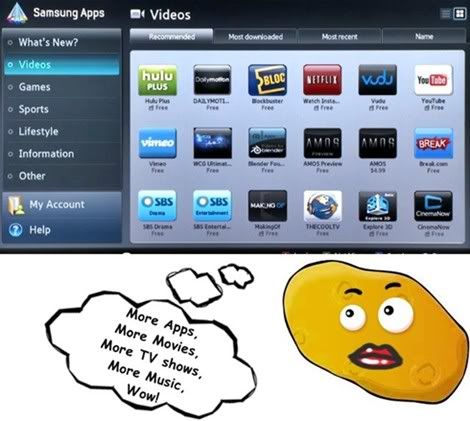 I love watching movies and HBO series. With a Samsung SMART TV, I could use HBO GO which would give me immediate access to more than 1,400 titles of HBO® programming. With it, I can also instantly watch every episode of HBO classics like Sex in the City, True Blood, Boardwalk Empire and my fave United States of Tara.
With the Samsung App MTV Music Meter, I can discover and share music I love like that of Neyo, Lady Gaga, and of course – the GLEE cast. I will also be updated with MTV's top 100 trending artists. I can also access my fave artist's music videos, tweets, bios – and even get news about them.
I could also enjoy downloading and watching stream content in real time from movies and TV libraries using Samsung Movie Apps Vudu and Netflix.
With Hulu Plus, I'll never miss another episode of Glee and my other favorite shows because it would allow me to watch recently aired TV shows from ABC, Fox, NBC, and more.
Whenever I feel like dancing, singing – and going emo, I can checkout streaming music from Pandora. I can create my own personalized TV radio 'station'.
These are just a few of the hundreds of apps from the Samsung SMART HUB. Apart from Movie and Music Apps, the hub also offers game apps (which a couch potato can use whenever we get tired of watching movies), lifestyle and workout apps (which will probably encourage us to get up and move our ass – and be healthier), and information apps.
On top of that, the Samsung SMART TV also offers Search All which allows us to easily locate shows and movies that we would want to watch not just from the web or from regular TV programming – but also from other DNLA connected devices.
To a great extent, the Samsung SMART TV may also prompt us to be more productive even as we enjoy our coach potato moments. How? Well, as we enjoy music, movies, TV shows in our TV, we can also check and respond to emails and do other tasks online.
All in all, the Samsung SMART TV makes couch potatoing a more exciting, relaxing, and enjoying moment. It also makes it a more productive and yet again – a SMARTER experience.
This is my entry to the Samsung TV PH's Things That I Can Do With a Samsung SMART TV contest. I hope you can leave a comment and help me win the TV-PC of my dreams.